Re-mastered 'The Raincoats' Album
9th November 2009 - admin at 7:42 pm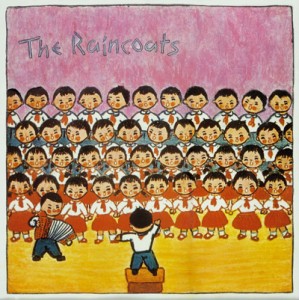 We ThRee announce the reissue of the "The Raincoats" the legendary first album by The Raincoats originally released on Rough Trade Records in 1979. Widely acclaimed as one of the musical highlights of the post punk period and a breakthrough moment for women in music, "The Raincoats" has been commercially unavailable for the past 10 years. We ThRee is The Raincoats' own label and will release the album on vinyl and a special edition digipak enhanced cd with live footage from 1979 on 9 November 2009. Kill Rock Stars will release the album on vinyl simultaneously in the USA.
• Re-mastered from original masters
• Heavyweight 180 gram vinyl (including
• download coupon)
• CD special digipak edition with bonus
• video footage.
• Liner notes by Kurt Cobain (written in 1993).
• Additional song "Fairytale in the Supermarket"
• included.
• Press campaign by Stone Immaculate Press.
I really don't know much about The Raincoats except that they recorded some music that has affected me so much that whenever I hear it I'm reminded of a particular time in my life when I was (shall we say) extremely unhappy, lonely and bored. If it weren't for the luxury of putting on that scratchy copy of The Raincoats' first record, I would have had very few moments of peace.
(Kurt Cobain, Nirvana, June 1993)
It was The Raincoats I related to most. They seemed like ordinary people playing extraordinary music. Music that was natural that made room for cohesion of personalities. They had enough confidence to be vulnerable and to be themselves without having to take on the mantle of male rock/punk rock aggression…or the typical female as sex symbol avec irony or sensationalism.
(Kim Gordon, Sonic Youth,1993)